Melvin Duncan
Melvin Luther Duncan
Nickname: Buck

Career: 1949-1956
Positions: p, of
Teams: Kansas City Monarchs (1949-1951, 1955), Detroit Stars (1955)
Bats: Right
Throws: Right
Height: 5' 9'' Weight: 155
Born: March 31, 1929, Ann Arbor, Michigan

A right-hander beginning his career when the Negro American League was in decline, he had average control, an average fastball, and a fair curve. He pitched with the Kansas City Monarchs for three years, 1949-1951. During the mid-1950s, when the Negro American League was strictly a minor affair, he pitched with both the Kansas City Monarchs and Detroit Stars in 1955.

Baseball Career Highlights:
"As a Monarch, I pitched a no-hitter in Hot Springs. Arkansas, in 1950. In Buffalo, New York, I hit a ball into the netting in left field with the bases loaded. At that time, the legendary vibraphonist Lionel Hampton was in the dugout. Also, during the 75th Anniversary Celebration, in Kansas City, Missouri, I had a chance to see my friends from the Negro Leagues."

Professional/Personal Accomplishments:
While playing in the Leagues in the 1950s, Duncan also played with the Colorado Springs Sky Sox. After leaving the Negro Leagues, he continued playing with the Kansas City Giants and was selected for the 1959 All Star team. He played fast-pitch softball from 1969-1979. In 1975, he was voted "Most Valuable Player" in Flint, Michigan.

Duncan retired from St. Joseph Mercy Hospital in 2000. He had worked there for 27 years. Since 1990, Duncan has been speaking at schools in Ann Arbor and Ypsilanti, Michigan, for Black History Month programs and other special events.

Awards, Honors, Titles, Championships,
Schools, Colleges:
• Voted Most Valuable Player in Flint, Michigan - 1975
• Honorable Member of Triple Nickles Airmen in Clarksville,
Tennessee - 1997

Sources:
NLBM Legacy 2000 Players' Reunion Alumni Book, Kansas City Missouri: Negro Leagues Baseball Museum, Inc., 2000.

James A. Riley, The Biographical Encyclopedia of the Negro Baseball Leagues, New York: Carroll & Graf Publishers, Inc., 1994.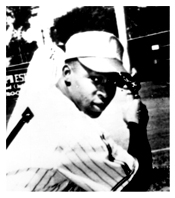 Melvin Duncan