Ernest Burke
Ernest Burke

Career: 1947-1948
Positions: p, 3b, of
Teams: Baltimore Elite Giants (1947-1948), minor leagues (1949, 1954), Canadian League (1950-1951)
Bats: Left
Throws: Right
Height: 6' 1'' Weight: 180
Born: June 26, 1924, Harve de Grace, Maryland
Died: January 31, 2004

He was a right-handed pitcher with the Baltimore Elite Giants in 1947-1948, posting a 4-1 record the latter season. After entering organized baseball in 1949, he pitched less but appeared more as an everyday player. As an outfielder and third baseman for Pough-Kingston in the Western League, he batted .253 but had no decision as a pitcher.

The next two seasons were spent with St. Jean in the Canadian Provincial League, where he hit .308 and .258 as a third baseman-outfielder while registering marks of 15-3 and 8-8, with a 4.33 ERA the former season. Three years later, in 1954, he appeared in eight games for Billings in the Pioneer League without a hit.

Baseball Career Highlights:
"I had many exciting moments in my baseball career. I had a 4-1 pitching season with the Baltimore Elite Giants. I hit .308 for St. John's, a team within the Canadian Provinciale Leagues. However, what I love most is the hundreds of letters I have received from young people telling me how much they have appreciated learning about the Negro Leagues."

Professional/Personal Accomplishments:
Burke played semi-pro football as a fullback from 1950-1952. In addition, he played professional tennis for more than 20 years. Burke also is a motivational speaker at high schools and colleges.

Awards, Honors, Titles, Championships,
Schools, Colleges:
• Disabled American Veterans' Outstanding Service Award -
January 1974
• City of Baltimore, Maryland Community Partnership Award -
September 22, 1995
• City of Baltimore, Maryland Mayor's Citation and Presidential
Citation - August 3, 1996
• Chinquapin Middle School's Champion of Courage Award -
February 27, 1997
• Keynote Speaker at the 50th Anniversary Celebration of Jackie
Robinson's "Breaking the Color Barrier in Baseball" sponsored
by the Smithsonian Institute
• Thomas G. Hayes Elementary School's Black History Month
Service Award - February 1998
• Proclaimed "Ernest Burke Day" in Harve de Grace, Maryland -
April 20, 1998
• Proclaimed "Ernest Burke Day" in Aberdeen, Maryland -
April 25, 1998
• Warren Elementary School's Award of Appreciation for
Technical Assistance for the Odyssey of the Mind Program -
June 4, 1998
• Featured in the Cal Ripken Museum. The showcase was
installed November 7, 1998

Sources:
NLBM Legacy 2000 Players' Reunion Alumni Book, Kansas City Missouri: Negro Leagues Baseball Museum, Inc., 2000.

James A. Riley, The Biographical Encyclopedia of the Negro Baseball Leagues, New York: Carroll & Graf Publishers, Inc., 1994.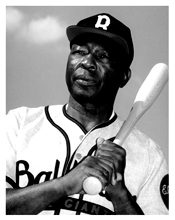 Ernest Burke