Clifford Brown
Clifford Brown
Nickname: Quack

Career: 1949-1951
Positions: 2b, ss
Team: Philadelphia Stars
Born: December 9, 1930, Tampa, Florida

Baseball Career Highlights:
"I played three games with the Philadelphia Stars in one day and in three different Virginia towns. During each game, I was lucky enough to hit a home run. So I ended the day with three home runs, the first homers in my career. Also, we won all three games."

Professional/Personal Accomplishments:
"After retiring from the Negro Leagues, I worked with the Florida Portland Cement Plant for 31 years as a track-mobile operator. I coached baseball for the Belmont Heights Little League, in Tampa, Florida, for 10 years. Professional baseball players such as Dwight Gooden, Gary Sheffield, Derek Bell, Carl Everett, Vance Lovelace and Floyd Yeoman began their baseball career in this league. It was also an honor to coach my son, Clifford R. Brown, Jr., who was a pitcher and played first base."

My personal accomplishment is that I had the opportunity to meet many professional baseball players, and reunite with some of my old friends and teammates. I'm overjoyed that I had the opportunity to be part of a Negro Leagues ball team."
Awards, Honors, Titles, Championships,
Schools, Colleges:
• Honor/recognition in the book, The Negro Leagues Revisited
• Tampa Tribune and St. Petersburg Times Awards
• Bill Duncan Opportunity Center Award
• Florida House of Representatives Award
• Hillsborough County Schools Award
• Tampa Bay Devil Rays Baseball Team Award
• City of Tampa (Florida) Award
• Tampa Sports Club Award
• Young Lions Youth Organization's Award for
Outstanding Service to the Black Community
• Recognition From Various Hillsborough County Churches

Source: NLBM Legacy 2000 Players' Reunion Alumni Book, Kansas City Missouri: Negro Leagues Baseball Museum, Inc., 2000.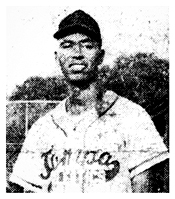 Clifford Brown