Sherwood Brewer
Sherwood Brewer
Nickname: Sherry, Woody

Career: 1948-1957
Positions: of, 2b, 3b, ss
Teams: Kansas City Monarchs (1953-1954), Indianapolis Clowns (1949-1951), New York Cubans (1948), minor leagues (1952, 1955-1956)
Bats: Right
Throws: Right
Height: 5' 8'' Weight: 168
Born: August 16, 1923, Clarksdale, Mississippi
Died: April 23, 2003

His career was beginning just as the Negro Leagues were declining. He joined the New York Cubans in midseason of 1948 from the Harlem Globetrotters' baseball team, and then spent three seasons playing both outfield and infield with the Indianapolis Clowns, batting .279 and .298 in 1949-1950. In the former season he made his only East-West All Star appearance, getting one hit in two at-bats and scoring a run in the East's 4-0 victory.

In 1952 he made his debut in organized baseball with Ardmore of the Sooner State League, batting .238. However, he returned to the Negro Leagues with the Kansas City Monarchs in 1953-1954 although the Negro American League was then strictly a minor league operation. Taking another shot at organized baseball, his best years were in 1955 and 1956 with San Angelo, where the second baseman hit .288 and .268. Although not hitting for high averages, the contact hitter exhibited average power and was a good base stealer.

Baseball Career Highlights:
"Every time I put on that uniform was a highlight for me because it made me part of an elite group." Brewer, who played in four East-West All Star games (1949-1950 and 1953) said, "Playing on those All Star teams sticks out in my mind as some of the most memorable and rewarding times in my baseball career."

Professional/Personal Accomplishments:
"For as long as I played, I was never out of the lineup. Kansas City Monarchs manager Buck O'Neil (who managed the Monarchs from 1948-1955) and a Boston Braves scout paid me the ultimate compliment by saying that they never saw me make a mental mistake."

Sources:
NLBM Legacy 2000 Players' Reunion Alumni Book, Kansas City Missouri: Negro Leagues Baseball Museum, Inc., 2000.

James A. Riley, The Biographical Encyclopedia of the Negro Baseball Leagues, New York: Carroll & Graf Publishers, Inc., 1994.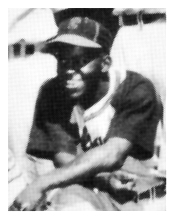 Sherwood Brewer