William Blair
William Blair
Nicknames: Radio, Lefty, Skinny Legs

Career: 1946-1951
Position: p
Teams: Detroit Stars, Cincinnati Clowns
Born: October 17, 1921, Dallas, Texas

Baseball Career Highlights:
"I pitched a no-hitter during a Denver Post Tournament and I had the honor of playing for the late Windfield Welch and Jesse "Hoss" Walker."

Professional/Personal Accomplishments:
Blair attended Prairie View A&M. He was the youngest black sergeant to serve in the U.S. Army in 1945 during World War II.
In 1948, he became the founder and owner of Southwest Sports News, a newspaper that specialized in publishing scores from African-American college games throughout the U.S. It was renamed Elite News in 1960 and is still being published today.

As a civil rights activist for more than 50 years, Blair was instrumental in establishing the Elite News Awards, the first, local African-American awards ceremony in 1975. In addition, he established the first Martin Luther King, Jr. Parade in Dallas, in 1986. Both activities continue to be successful events. Bank of America presented Blair with the Trailblazer Award for his dedication and continuing commitment to the Dallas community in 1997. Currently, he is serves as a board member for the Dallas Black Chamber of Commerce, Dallas Urban League, African-American Museum, Interdenominational Ministerial Alliance and others.

Source: NLBM Legacy 2000 Players' Reunion Alumni Book, Kansas City Missouri: Negro Leagues Baseball Museum, Inc., 2000.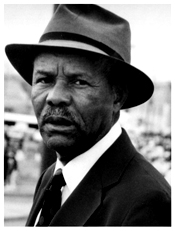 William Blair