William Bell, Jr.
William Bell, Jr.
Nickname: Lefty

Career: 1949-1954
Position: p
Teams: Kansas City Monarchs (1949-1954), Birmingham Black Barons (1950)
Bats: Left
Throws: Left
Born: July 30, 1930, Des Moines, Iowa

Beginning his career with the Kansas City Monarchs in 1949, at a time when the Negro American League was in decline, the left-hander pitched with both the Monarchs and the Birmingham Black Barons in 1950, and he continued with the Monarchs on into the early 1950s, when the league was strictly a minor league.

Professional/Personal Accomplishments:
Bell worked with the U.S. Postal Service in Iowa, in various supervisory and management positions for 34 years. He was also the co-chairman of the Committee for Better Race Relations at East High School, in Des Moines, Iowa, from 1972-1974.

Awards, Honors, Titles, Championships,
Schools, Colleges:
Bell coached the Babe Ruth baseball team for three years and helped the team win one State Championship title.

Sources:
NLBM Legacy 2000 Players' Reunion Alumni Book, Kansas City Missouri: Negro Leagues Baseball Museum, Inc., 2000.

James A. Riley, The Biographical Encyclopedia of the Negro Baseball Leagues, New York: Carroll & Graf Publishers, Inc., 1994.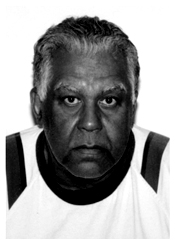 William Bell, Jr.